Certified PPE equipment for Europe
Medical Technology Import is a wholly owned subsidiary of MTI Sàrl which specialises in the import and distribution of high precision supplies for the precision engineering and medical industries.
---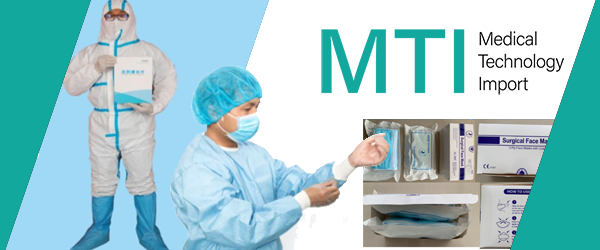 Reacting to the COVID 19 pandemic, we are focusing our commercial expertise on procuring quality, Personal Protection Equipment for the medical and care sector in Europe.
With nearly 10 years' experience in procuring high specification components and materials from Asia, we are ideally placed to manage the procurement and delivery of certified PPE to meet the demands of the European health sector. We offer a fast, highly reliable supply of first-class face masks and related products, efficient service and competitive prices. All our products carry the CE mark.
If you are unable to find what you require on our site then please contact us.
Learn more about our certification process
Our products
As the coronavirus disease 2019 (COVID-19) pandemic accelerates, global health care systems have become overwhelmed with potentially infectious patients seeking testing and care.
Preventing spread of infection to and from health care workers (HCWs) and patients relies on effective use of personal protective equipment (PPE)—gloves, face masks, air-purifying respirators, goggles, face shields, respirators, and gowns. A critical shortage of all of these is projected to develop or has already developed in areas of high demand.
MTI can offer CE certified products through direct contact with manufacturers that have the strict and reliable quality control methods to provide equipment that is necessary to protect and avoid unnecessary contamination of people. We offer this service to help the industry in these difficult times.
See our list of certified medical products